Campbell Youth (Grades 6-12)
Campbell Youth (Grades 6-12)
Campbell Youth (Grades 6-12)
Wednesday nights at 6:30 pm
Campbell Youth (Grades 6-12)
Our Youth Group is for teenagers grades 6-12 (ages 12-18).
We have our youth meetings on Wednesdays from 6:30-8:00 pm from September to May.
We'd love to get to know you!
Feel free to contact Brian if you have any questions!
Click HERE to see our weekly youth gatherings.
Upcoming Events
---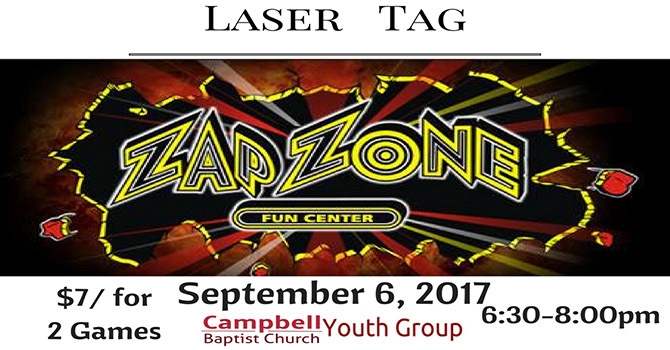 Youth Laser Tag
Wednesday, September 6, 2017
Zap Zone
6:30PM
Youth Fall Kick Off!
Wednesday, September 13, 2017
6:30PM
Youth Group (Jr. & Sr. High)
Wednesday, September 20, 2017 & other dates
Campbell Baptist Church
6:30PM
Youth Bonfire
Friday, September 29, 2017
6:00PM